Happiness is a Warm Puppy
"Malamutes and Huskies were made for frosty weather, but small dogs (who have difficulty retaining body heat) and dogs with very little body fat…need help to keep warm. You don't feel comfortable shivering. Your dog doesn't either."
Veterinarian Sheldon Rubin
Size and Care Information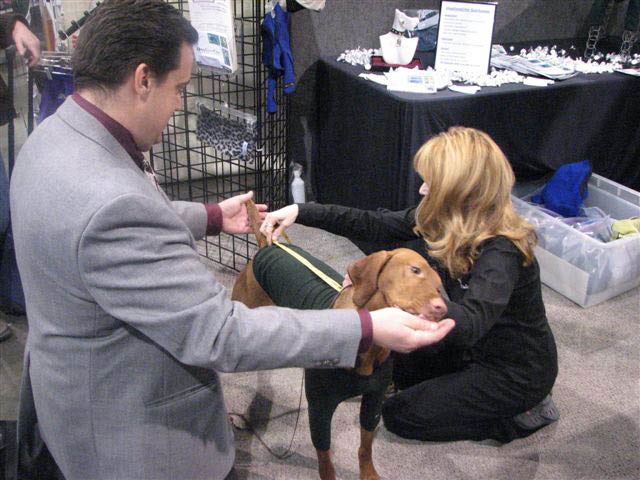 DOGGONECHIC® Sportswear is crafted of high quality, cutting edge fabrics, used for human athletes, for comfort, warmth, and ease of movement.
DGC Sportswear line was originally designed to fit the sighthound's athletic build: full, deep chest, slender waist, longer than average, body, long neck, aerodynamically shaped head, however, due to popular demand, we've expanded to fit other body shapes as well.
Like humans, dog bodies come in a significant variety of shapes and sizes. Because of this, clothing will fit differently, just like our human clothing.
The most important measurement is the girth (circumference of chest at its fullest point). Shirt length is listed. We are aware that some dogs may not fall into these categories. If this is the case we are happy to make a custom fit BodyShirt® for an additional charge. (Please click link for custom measurement chart.)
Click here to submit Measurements
SIZE CHART for RainGear

| SIZE | Girth | Length |
| --- | --- | --- |
| Petite | up to 13" | 8" |
| Small | Up to 19" | 15" |
| Small/Medium | Up to 23" | 19" |
| Medium | Up to 25" | 20" |
| Medium/Large | Up to 28" | 25" |
| Large | Up to 32" | 29" |
| Extra Large | Up to 36" | 33" |
DOGGONECHIC® Apparel is designed for layering. Made in the Pacific NW where rain is described by many names, the RainGear can be used alone for those lovely spring showers, or summer mists, or in the chill of winter downpours, and can be worn over the regular BodyShirt®. RainGear is constructed of 3-layer Gore-Tex: Breathable waterproof polyester; velcro fastener. Easy Care Instructions: Machine wash gentle with like colors, cold water. No softeners. Line dry only.