Special Instructions for our Australia and New Zealand Clients
We apologize for the inconvenience, but our store front is not equipped to take direct credit card orders from our Australia and New Zealand clients at this time. You may either click here to download an order form and mail it to us with your payment, or follow the below instructions for by-passing the "BILLING" page so you can complete your purchase with our PAYPAL site.

---
1) Choose your products
2) After clicking the "CHECKOUT" button you will be taken to the BILLING page
3) Fill out the blanks in the billing page with DogGoneChic's information as shown below (this will allow you to continue to the paypal)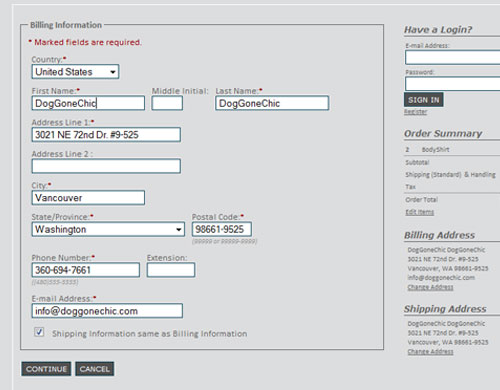 4) Click Continue
5) In Special Instructions:
Enter Your Name, Address, Phone number and Email in this box.
6) Click the PayPal button and continue to the PayPal site to complete your order. Please put in YOUR correct billing information at PayPal.
CLICK HERE FOR PDF VERSION OF INSTRUCTIONS